GENEO
The most popular bed not only for standard and above-standard hospital care but also for intensive care

Thanks to its professional processing down to the last detail, GENEO has become a very popular and sought-after product among customers. The GENEO bed is a perfect combination of high-quality material processing, functional design and intuitive control. Thanks to a wide range of modifications can be made according to the customer's wishes.
/getattachment/34427804-d96c-4109-8c22-103098d75c9f/01.jpg
/getattachment/3a0d9423-631a-4b81-bbf8-d482adbb30fc/02.jpg
/getattachment/d269bd02-d316-4898-84b3-3a2dbcb7d515/03.jpg
/getattachment/b0b1b25a-e47f-4a62-acf5-0e73bb7e69e5/04.jpg
/getattachment/4c834787-8672-4920-ac51-473f7f813d7a/05.jpg
/getattachment/9b6d87ef-e8e1-40ea-b3a6-8d3a3b1f0cef/06.jpg
/getattachment/4e556dea-f6f1-445c-8a13-659ff582d910/07.jpg
/getattachment/23d177cc-971e-45ae-8dd7-bd050892cfc9/08.jpg
/getattachment/acdedf46-630a-4024-b3a2-654af59ffe9f/09.jpg
/getattachment/dad1303a-c372-49be-94e7-c1dfafde90a5/10.jpg
/getattachment/7c588ca7-f238-45df-8d71-84dbe37e045e/11.jpg
/getattachment/6dd10714-4f90-4b49-9a96-5e9409a8d25f/12.jpg
/getattachment/ecf66bb7-410e-4f02-b8cc-7bc523b070fd/13.jpg
/getattachment/7d49bb7a-cc50-4f36-8121-a9eb64cd3d57/14.jpg
/getattachment/726572db-22d7-45c0-b048-32746cb815d3/15.jpg
/getattachment/2691d384-f5e6-426a-9c7b-3deb9dd92dc6/16.jpg
/getattachment/3b35a85f-207b-48c6-8e9c-fa70a2506198/17.jpg
/getattachment/1b1b2d88-bed8-4d84-8a05-608fe9324ee0/18.jpg
/getattachment/8a488ac3-f19c-421c-9043-3ebda0ccac98/19.jpg
/getattachment/53ffc89e-2584-4cfa-8b75-58eb189de2aa/20.jpg
/getattachment/65c2d662-53cb-4cc8-9dbc-dc41dad71e33/21.jpg
/getattachment/e953d54d-9078-4eb9-8ebf-eebf6c83d55c/22.jpg
/getattachment/b219a836-9307-4e49-8bb2-6e44d3484d5e/23.jpg
/getattachment/59e34b5e-86e1-4d73-a354-07d8bd13c683/24.jpg
/getattachment/a62438b3-5ffc-4332-bb52-f7a2d5a1d569/25.jpg
/getattachment/8b39046b-90e8-4906-b632-b65f94227a05/26.jpg
/getattachment/c1a177d0-ca18-41d1-8851-fd1ba704138e/27.jpg
/getattachment/e1e637f8-31d5-4e0a-bef8-5a91de4a1c54/28.jpg
/getattachment/830d12e9-15f2-45d4-82ed-145280dd48e4/29.jpg
/getattachment/5224e899-4340-4a9e-9cae-cc43afb1d177/30.jpg
/getattachment/0b9a9843-ecc9-4f4f-ab00-5a3d88d5a36f/31.jpg
/getattachment/ac5fe35c-49e3-4d33-a1ee-2f91ca35073b/32.jpg
/getattachment/e38c6ecb-6933-4c80-b925-d653bd5928ba/33.jpg
/getattachment/8765071c-4869-415b-a9d1-c72ed00fe306/34.jpg
/getattachment/bf558913-d5b6-44da-a2af-62991c4b1747/35.jpg
/getattachment/2dca59b6-0b1b-413c-9e7d-3fabb3051537/36.jpg
/getattachment/20ba22db-71a6-4d29-80e0-951c1a68cd0d/37.jpg
/getattachment/21f128e2-4ef5-46d3-bfb5-44c287066b81/38.jpg
/getattachment/86fc9b8e-d64c-4e47-984f-37733ae25899/39.jpg
/getattachment/1d6f6968-7d43-46af-970a-ee384b82d055/40.jpg
/getattachment/0b8532a7-c773-4905-95db-ce916b58a2cd/41.jpg
/getattachment/f27acc6c-8b98-4f07-996b-43f6f7492e4b/42.jpg
/getattachment/5d347039-746c-458d-a897-01dc5cdb5aa4/43.jpg
/getattachment/fc848a9d-a7c1-4618-ae55-5513f69d6c41/44.jpg
/getattachment/30830177-69e9-47d4-91a9-4c217790fb97/45.jpg
/getattachment/f709a8fb-5451-4f33-8387-e0d2be4f4e56/46.jpg
/getattachment/8acaf0ba-b2a7-416e-b073-aae077c9c4f3/47.jpg
/getattachment/ceb0ac20-ffef-4751-b0c5-a00eb90657e2/48.jpg
/getattachment/36cb8018-6196-4aa2-a83b-08934ba64624/49.jpg
/getattachment/4a24b219-2491-4202-b0be-06f6d1d5a5d1/50.jpg
/getattachment/aa387ff5-3406-49d4-8f46-e1857d8714a5/51.jpg
/getattachment/5a601ead-a3ce-448c-a647-d7d3b5339ca3/52.jpg
/getattachment/5f842581-045d-47c7-8b54-7463d284b210/53.jpg
/getattachment/9a36fa3c-ae29-4ccb-ac21-7db484b8062a/54.jpg
/getattachment/3ebb5e9f-583d-41b4-aa53-35e63adaccaa/55.jpg
/getattachment/6ec29c8e-c7a3-4c8c-8a49-cff4844ff85f/56.jpg
/getattachment/13d34826-bda0-40bd-ac63-02b8c967614a/57.jpg
/getattachment/57d08494-dd3c-428c-9582-3491cd30aef0/58.jpg
/getattachment/4241b562-281f-4852-a832-53b1d35f745f/59.jpg
/getattachment/c7af1529-55a9-4f4c-ab97-eaea09894475/60.jpg
WE FACILITATE THE WORK OF HEALTHCARE PROFESSIONALS
Electric lifting of the mattress platform
The increased range of the bed lift reduces the strain on staff and facilitates the patient handling. The reduced minimum height of the mattress platform assists the patient in exiting the bed.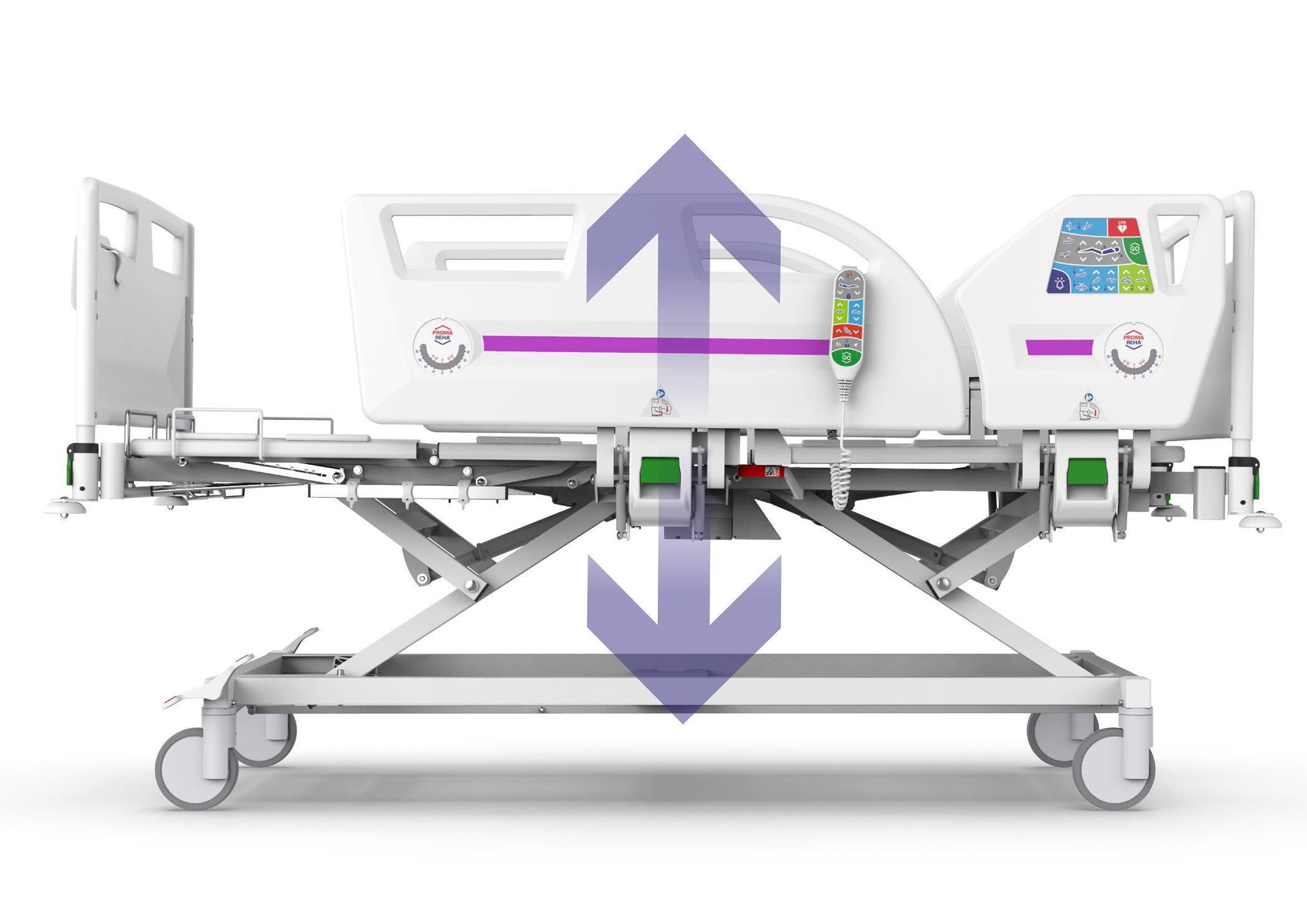 The bed passes through a 100cm door
Thanks to the outer width of the bed, the bed passes 100 cm through the door.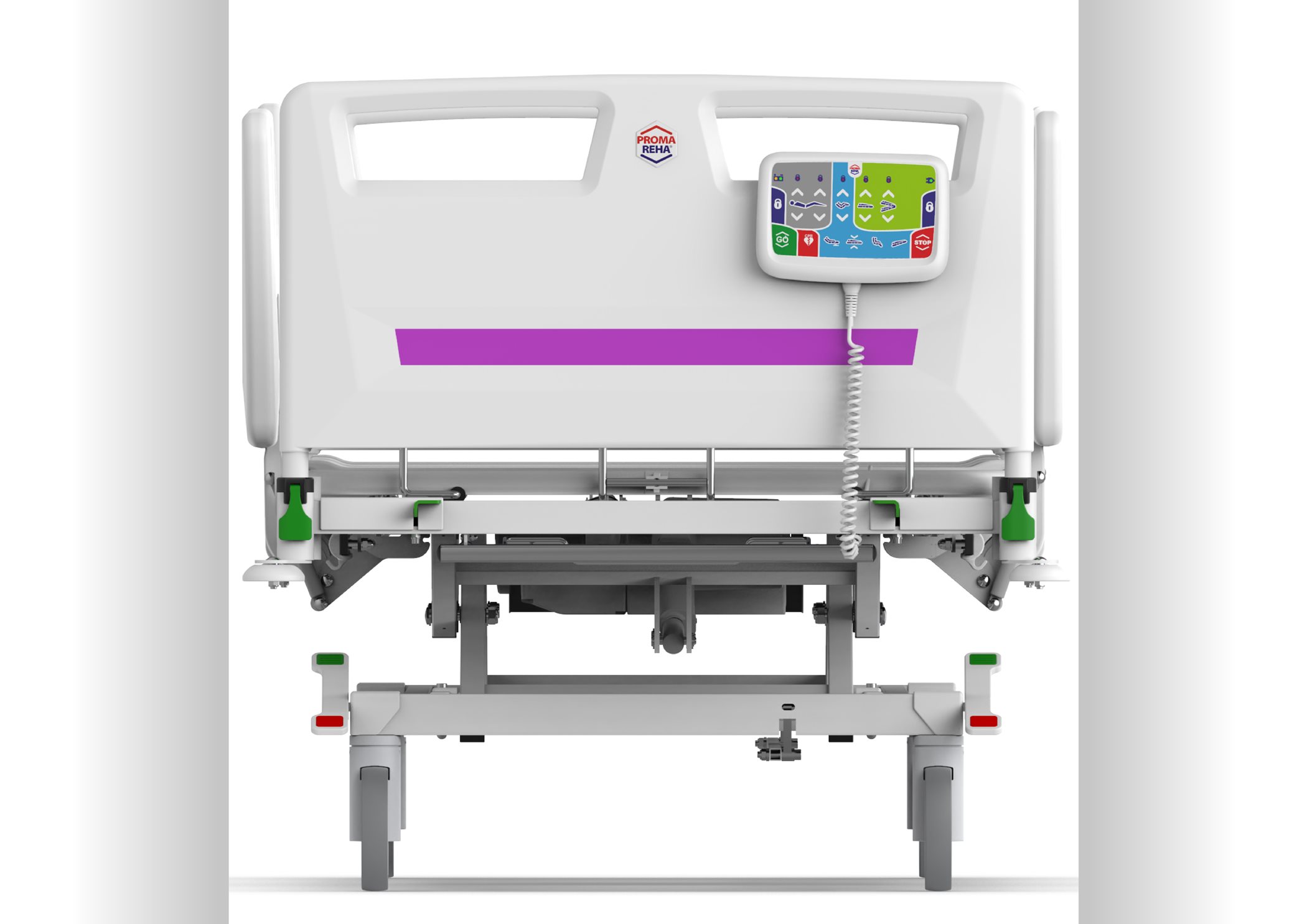 Nurse control
The innovative nurse control brings convenient and safe control of the bed in any situation. The combination of basic positioning functions and one-button functions ensures immediate and precise adjustment of the bed to the desired position. The nurse control allows the individual functions of the patient control to be locked.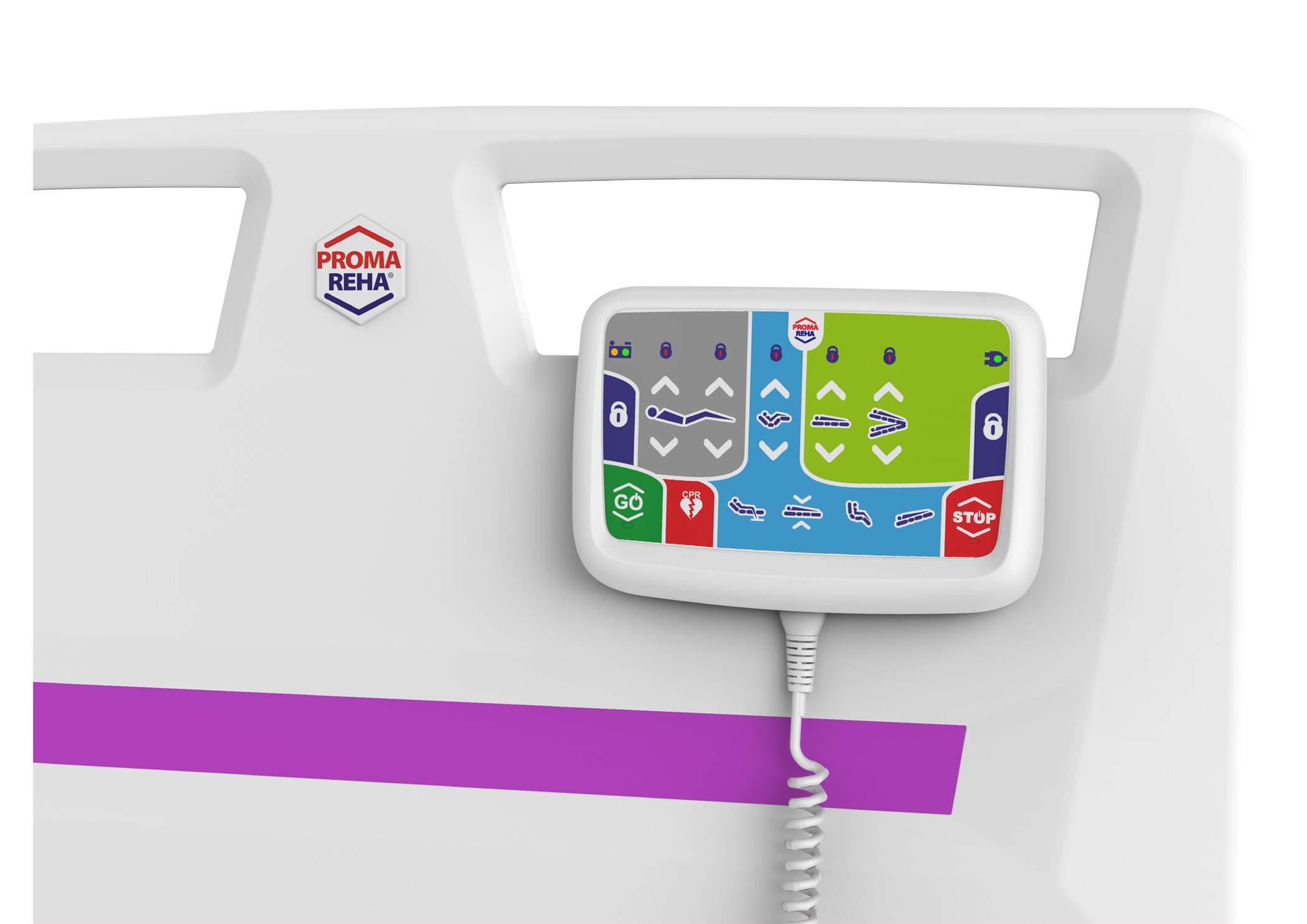 Bed linen shelf
The pull-out shelf is a great tool for changing bed linen. The shelf can be used to protect the nurse control from damage or unauthorized use.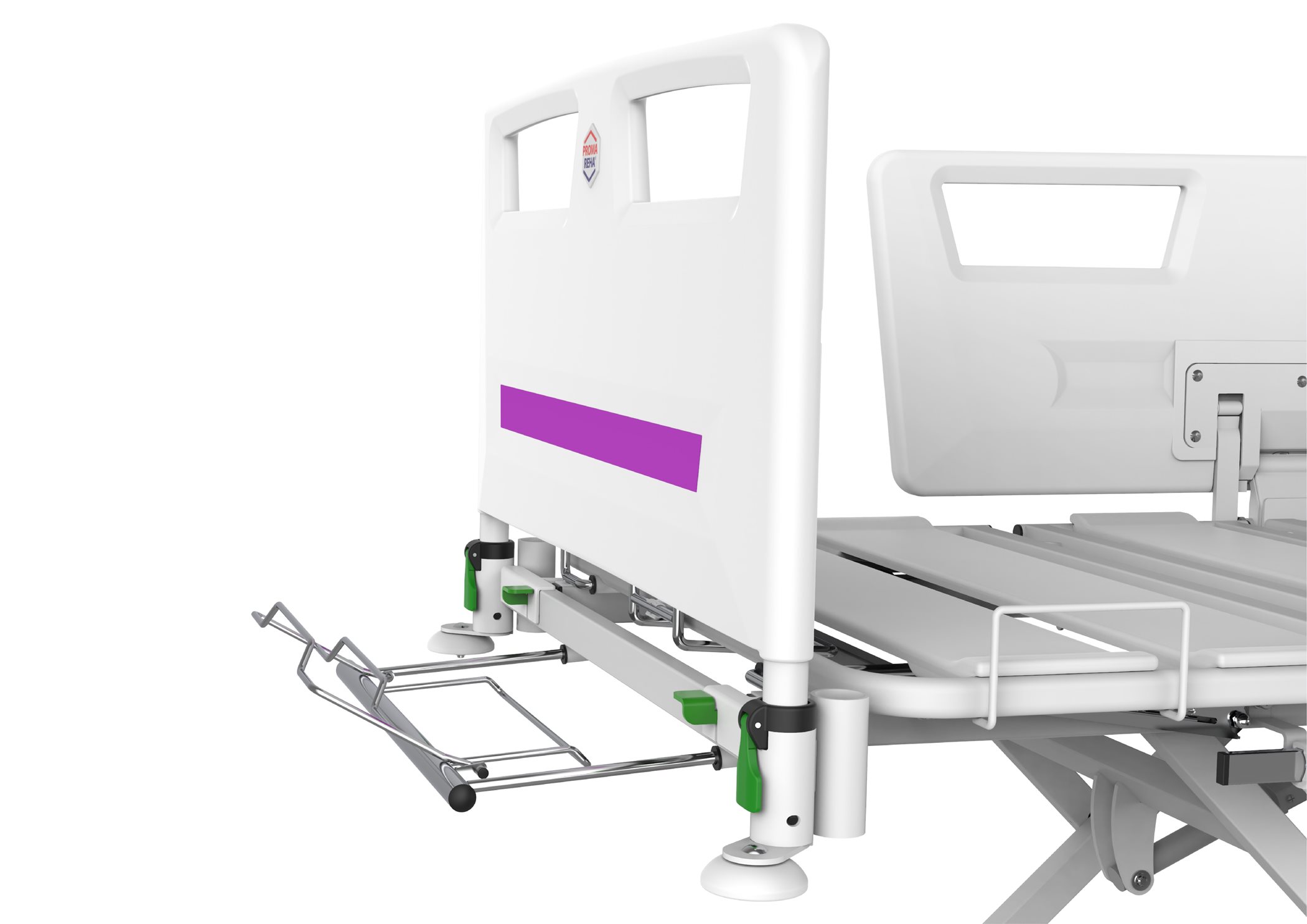 Quick access to the patient
RRS (Rapid Remove System) head and foot board removal greatly speeds up access to the patient at critical moments.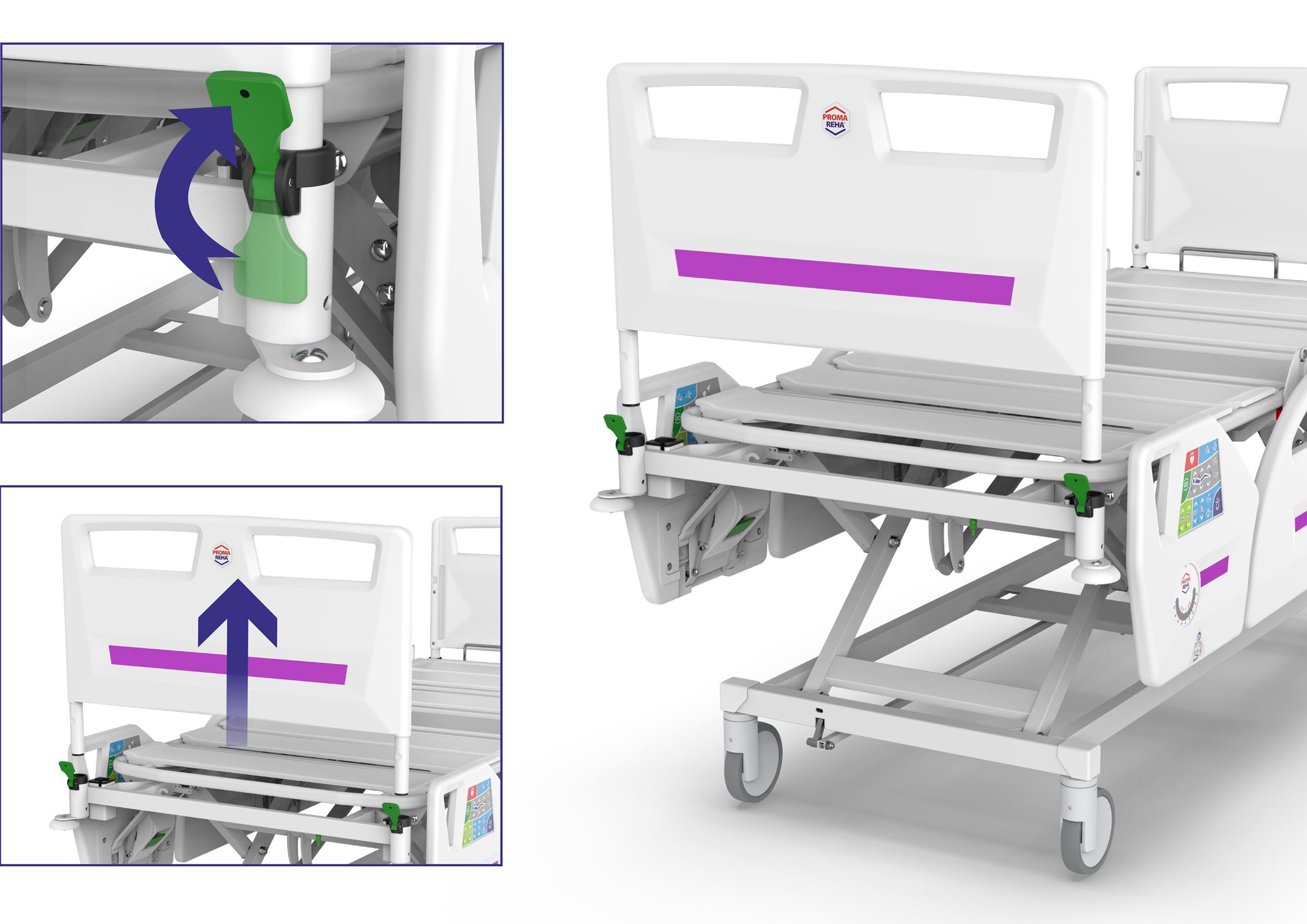 CPR function
This feature ensures safe and rapid positioning of the bed in the optimal position for immediate cardiopulmonary resuscitation.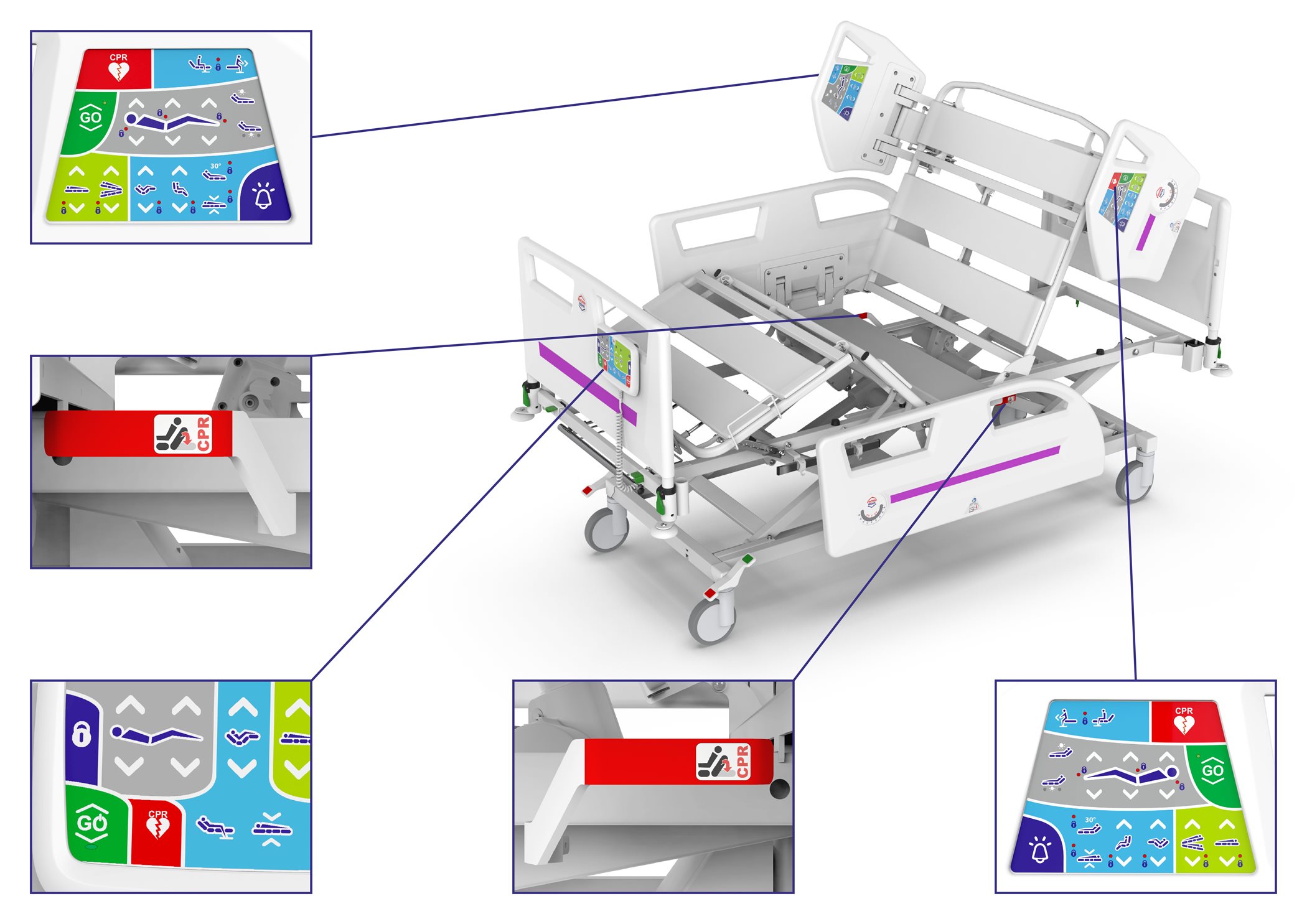 X-rayable mattress platform
The design of the mattress platform allows comfortable and safe scanning with conventional X-ray equipment.


Central brake
Safe handling of the bed is ensured by a centrally operated brake. Thanks to the possibility of locking one wheel in the straight direction of travel, the bed can be easily operated by only one person during transport.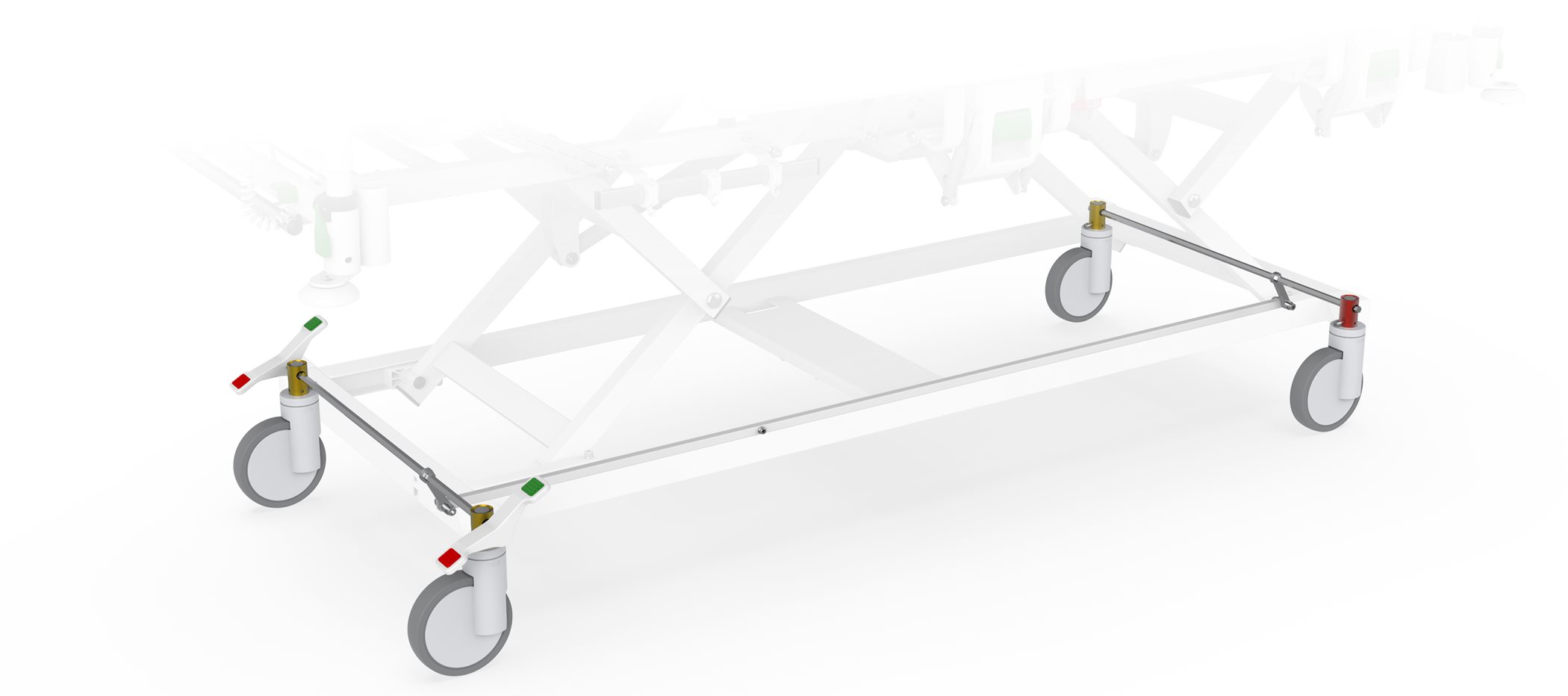 Fifth wheel
The fifth wheel ensures easy and intuitive handling of the bed. This feature is particularly useful in rugged areas and when the bed is handled by one person.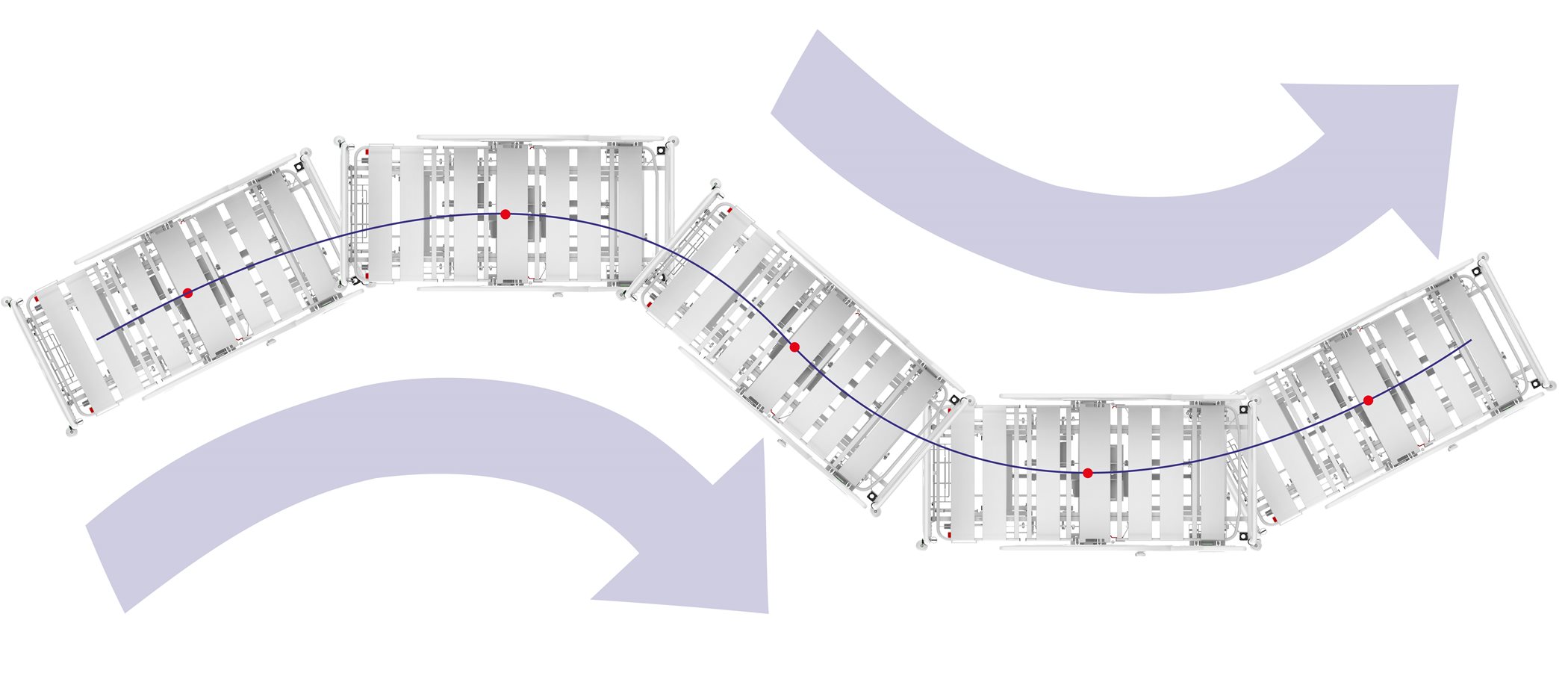 Bumper wheels
The bumper wheels located at the four corners of the bed are a great help especially during transport.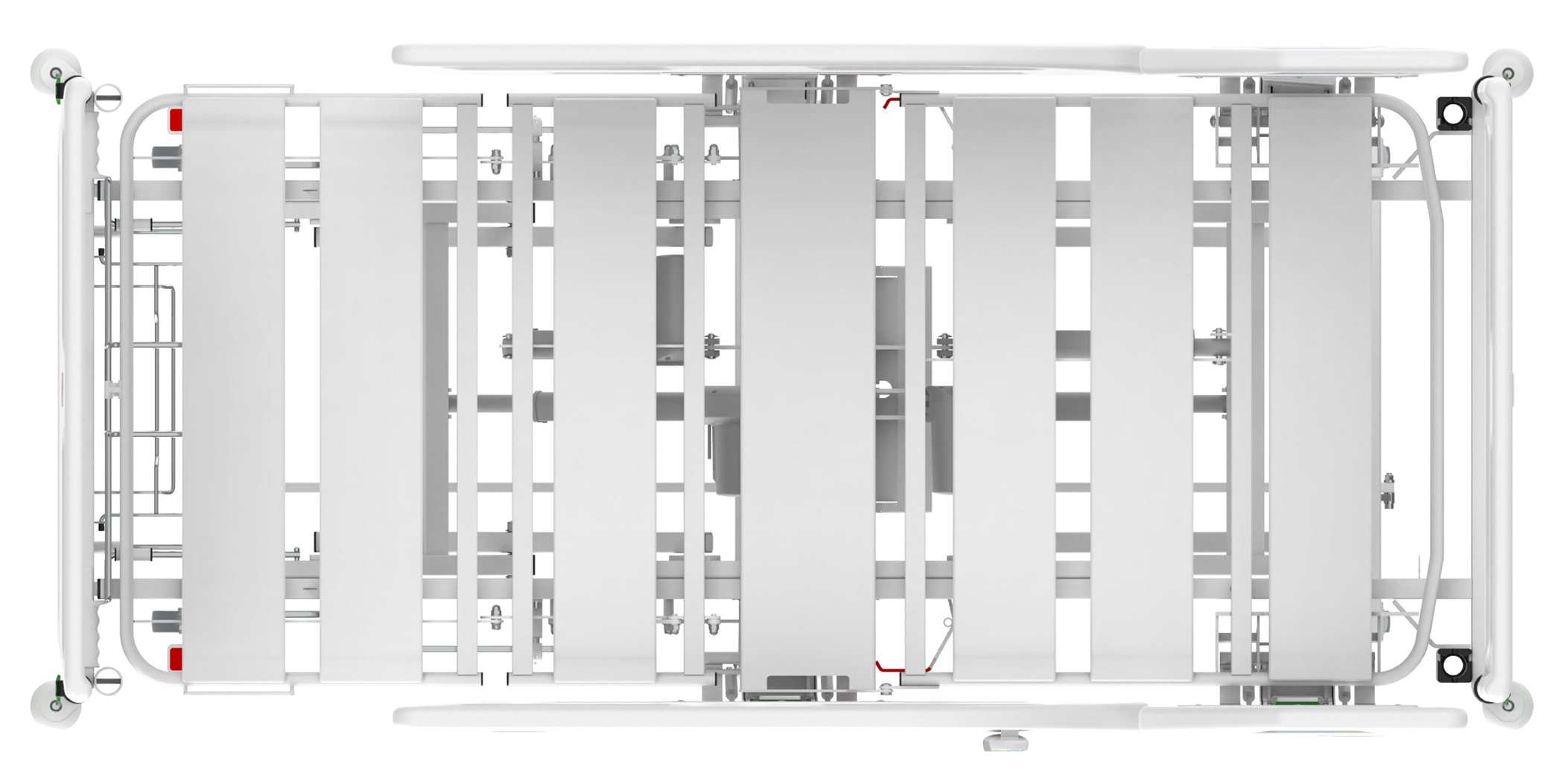 WE PROVIDE PATIENTS WITH MAXIMUM COMFORT AND SAFETY.
Side rails also suitable for higher mattresses
Specially designed siderails with a height of 45 cm above the bed surface guarantee maximum protection against falling out of bed even when using an anti-decubitus mattress up to 23 cm high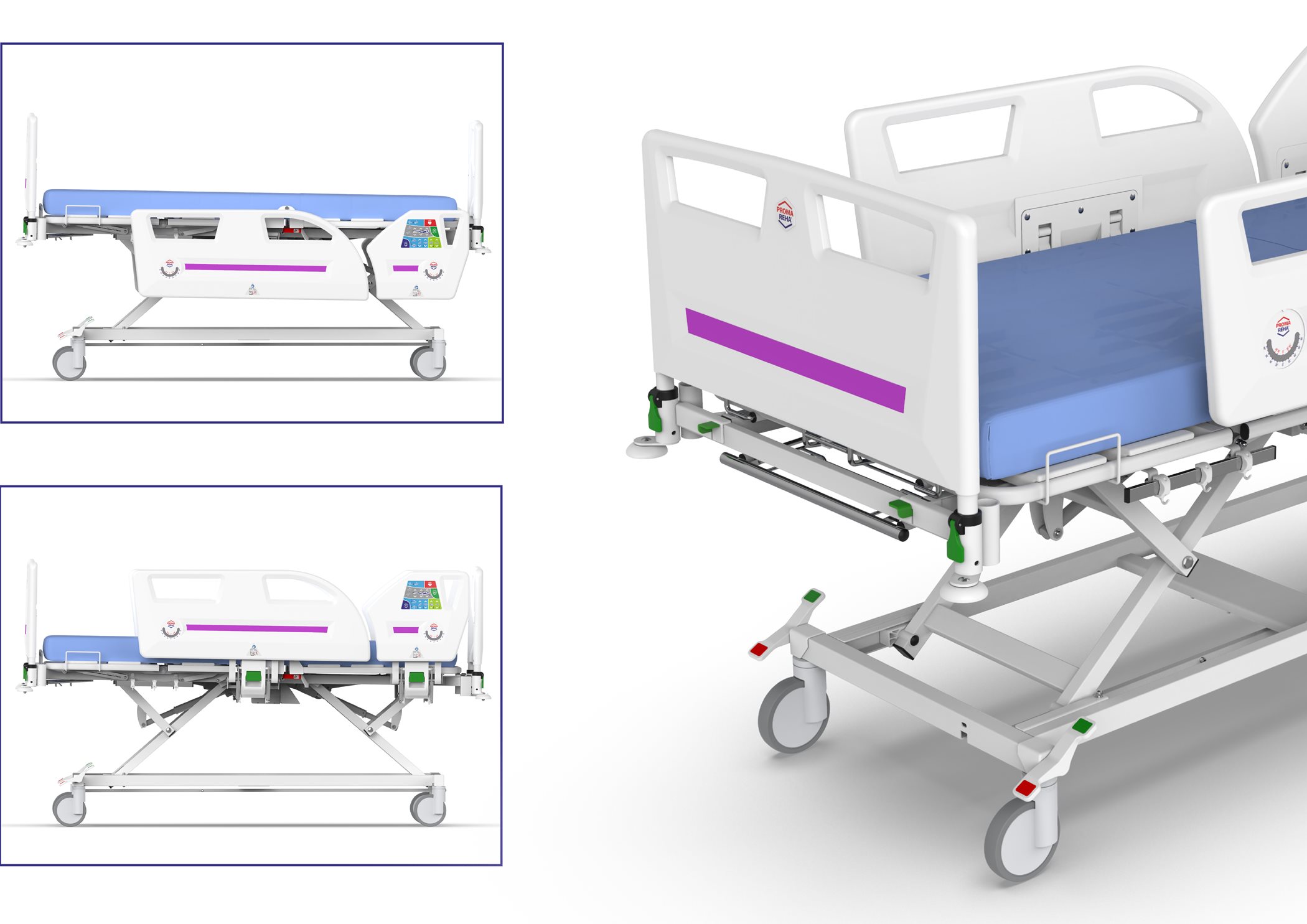 Comfortable positioning
The electric positioning of the back and thigh section in combination with the mechanical positioning of the calf section allows a wide range of adjustment of the individual parts of the mattress platform. The staff and patient can conveniently adjust the individual positions using the hand control.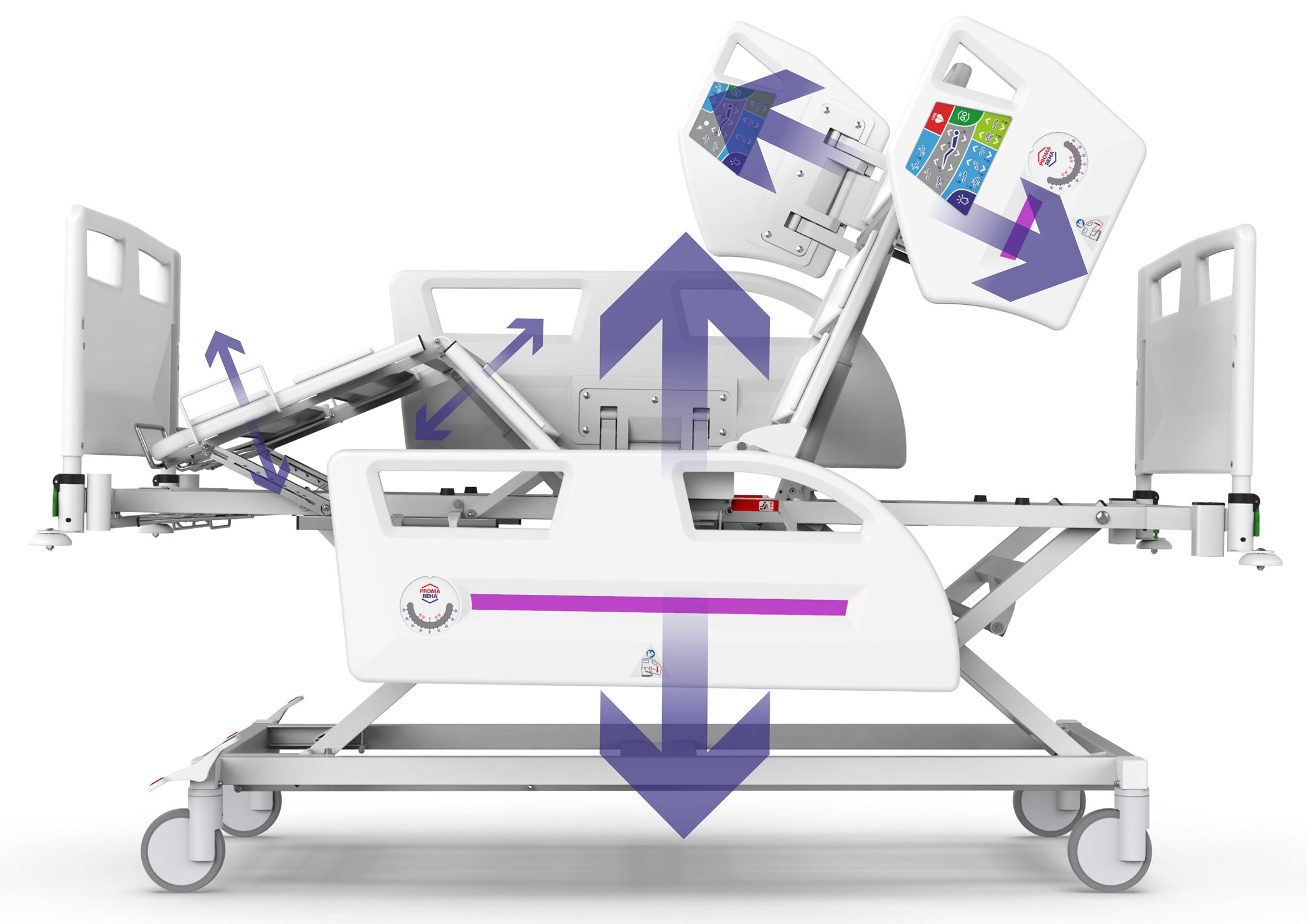 Double autoregression
Brings greater comfort to patients, reduces pressure in the abdominal area and reduces the risk of decubitus.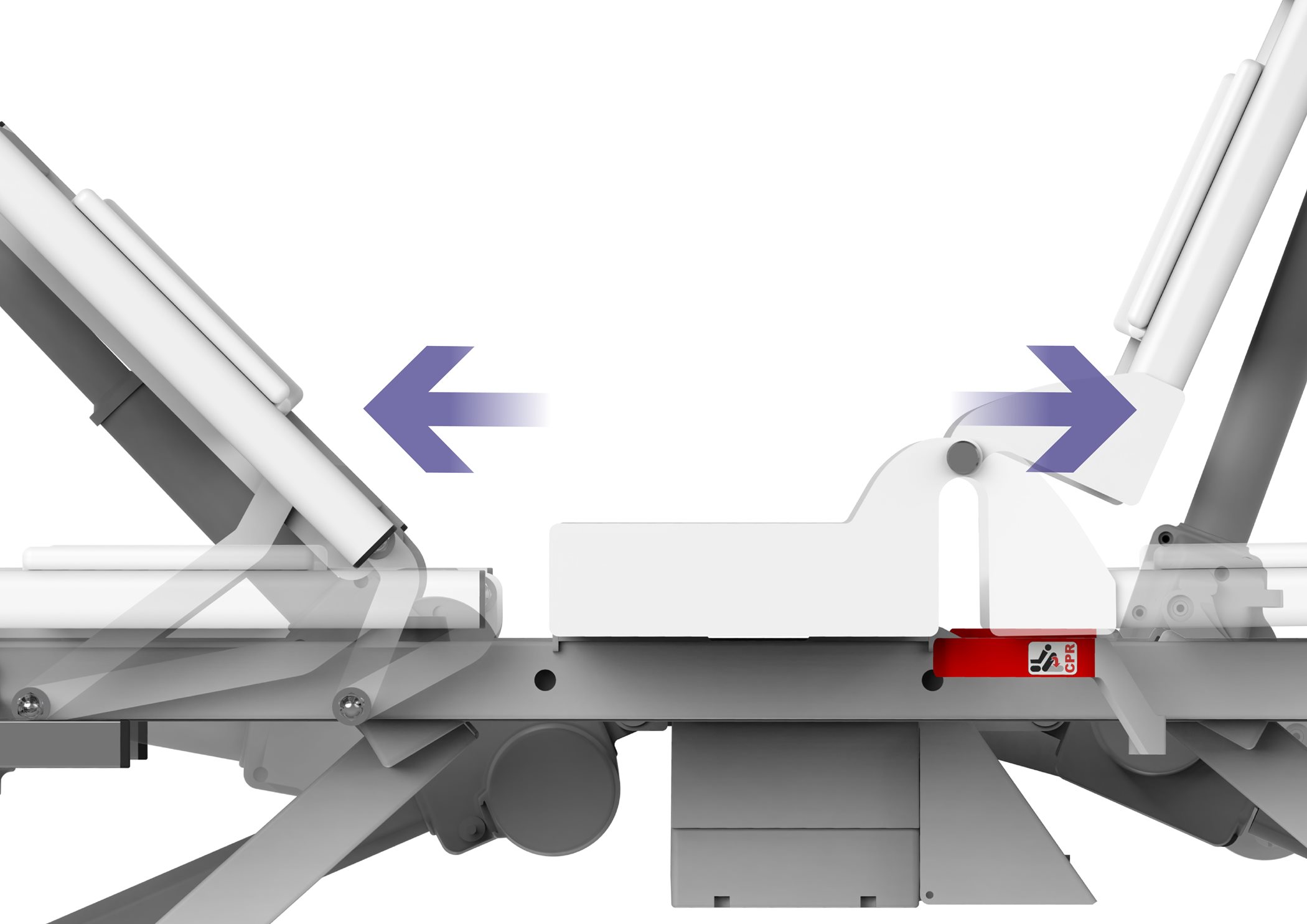 Trendelenburg / Antitrendelenburg
Quick and easy positioning into Trendelenburg (16°) and Antitrendelenburg (16°) positions with a single button.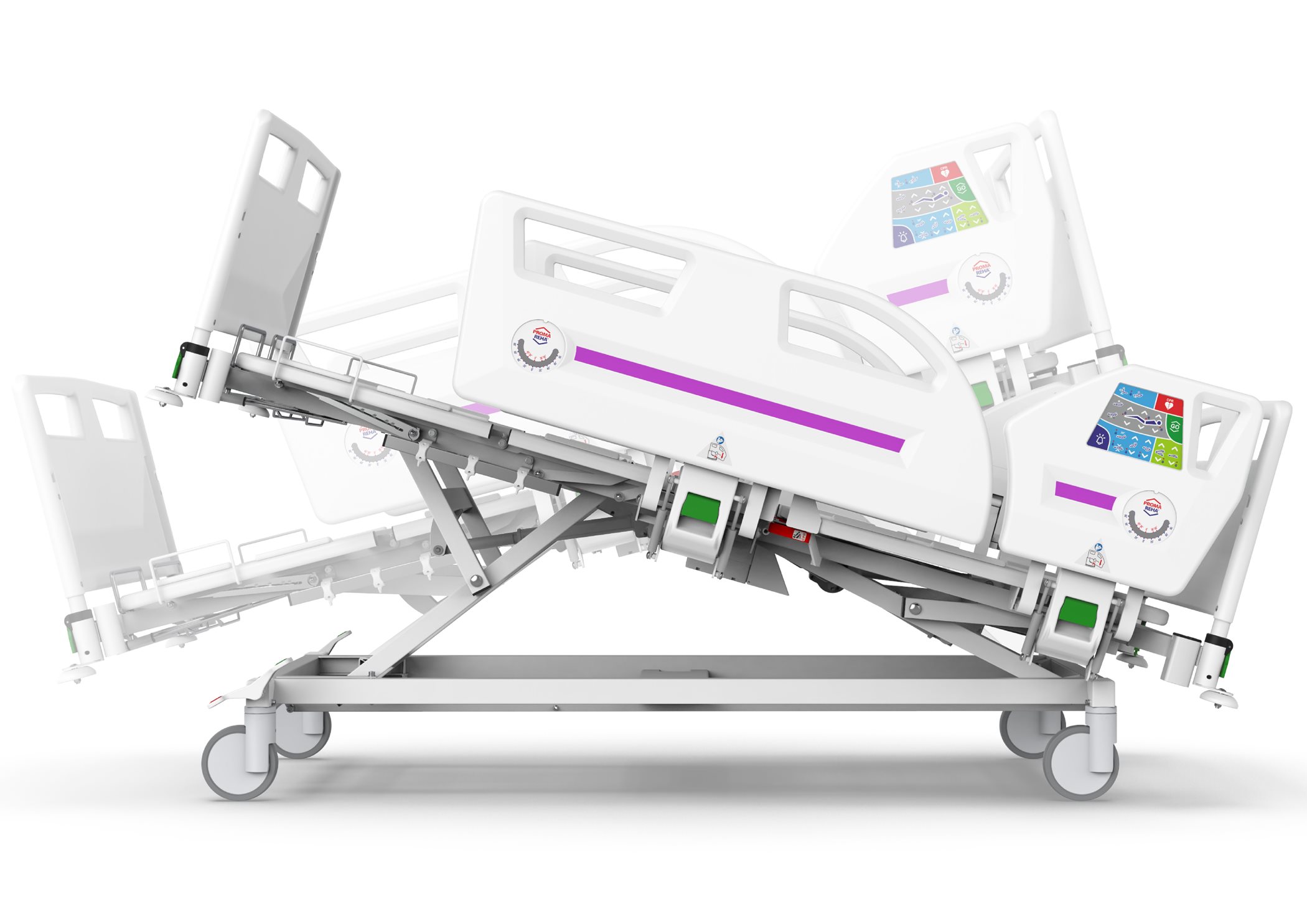 Patient control
The bed can be optionally equipped with an ergonomic patient control, which is always at hand of the patient and allows easy control of all basic functions.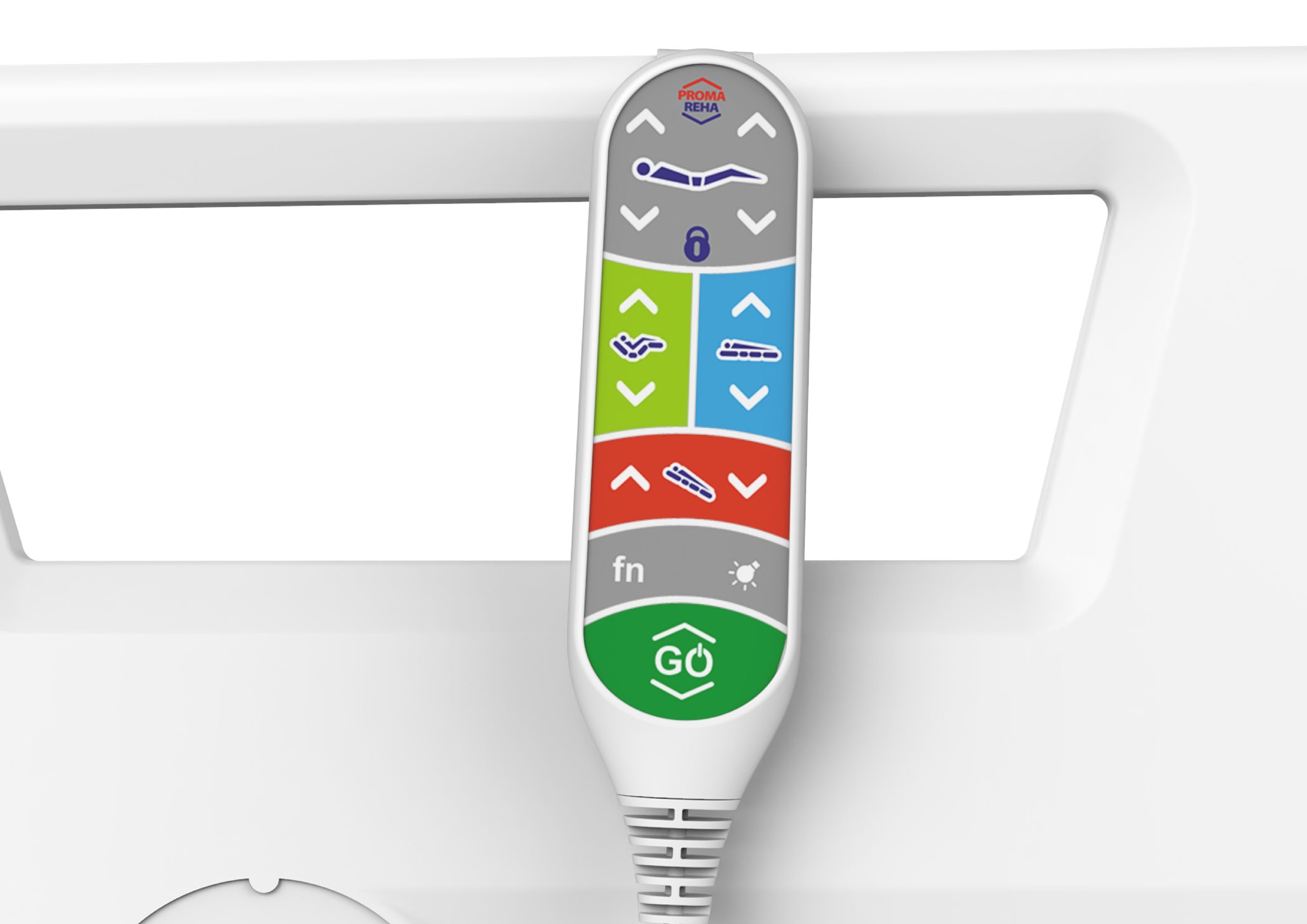 PROFESSIONAL WORKMANSHIP DOWN TO THE LAST DETAIL!
Choice of side rails
Protection of the patient from falling is guaranteed thanks to the side rails. You can choose the ones that suit you the most from three types of side rails - full-length plastic, ¾ plastic or foldable and removable metal. In the lowest position, the side rails are placed well below the level of the mattress and do not hinder the patient's exit.




Choice of mattress platform
The high-quality, easily washable mattress platform made of metal or plastic removable slats ensures high strength and durability even when roughly handled.



Choice of castors
All PROMA REHA beds are equipped with TENTE branded castors. You can also choose from three types of castors for this bed.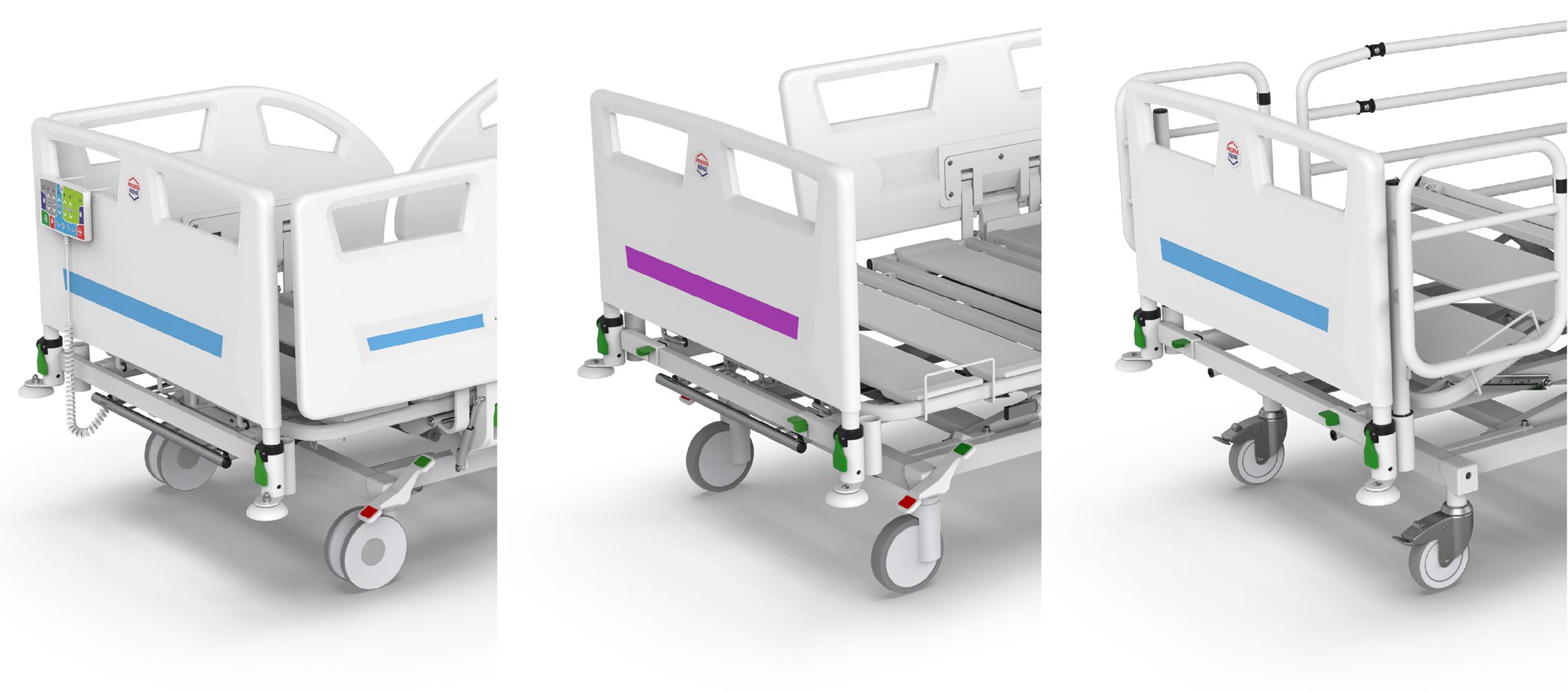 Bed boards
They provide excellent protection for the patient against falls and ensure very good guidance of the bed during transport. The head and foot boards are shaped in such a way that they realistically extend the mattress platform by up to 6 cm. Disinfection and maintenance is very simple due to the smooth surface and design of the boards.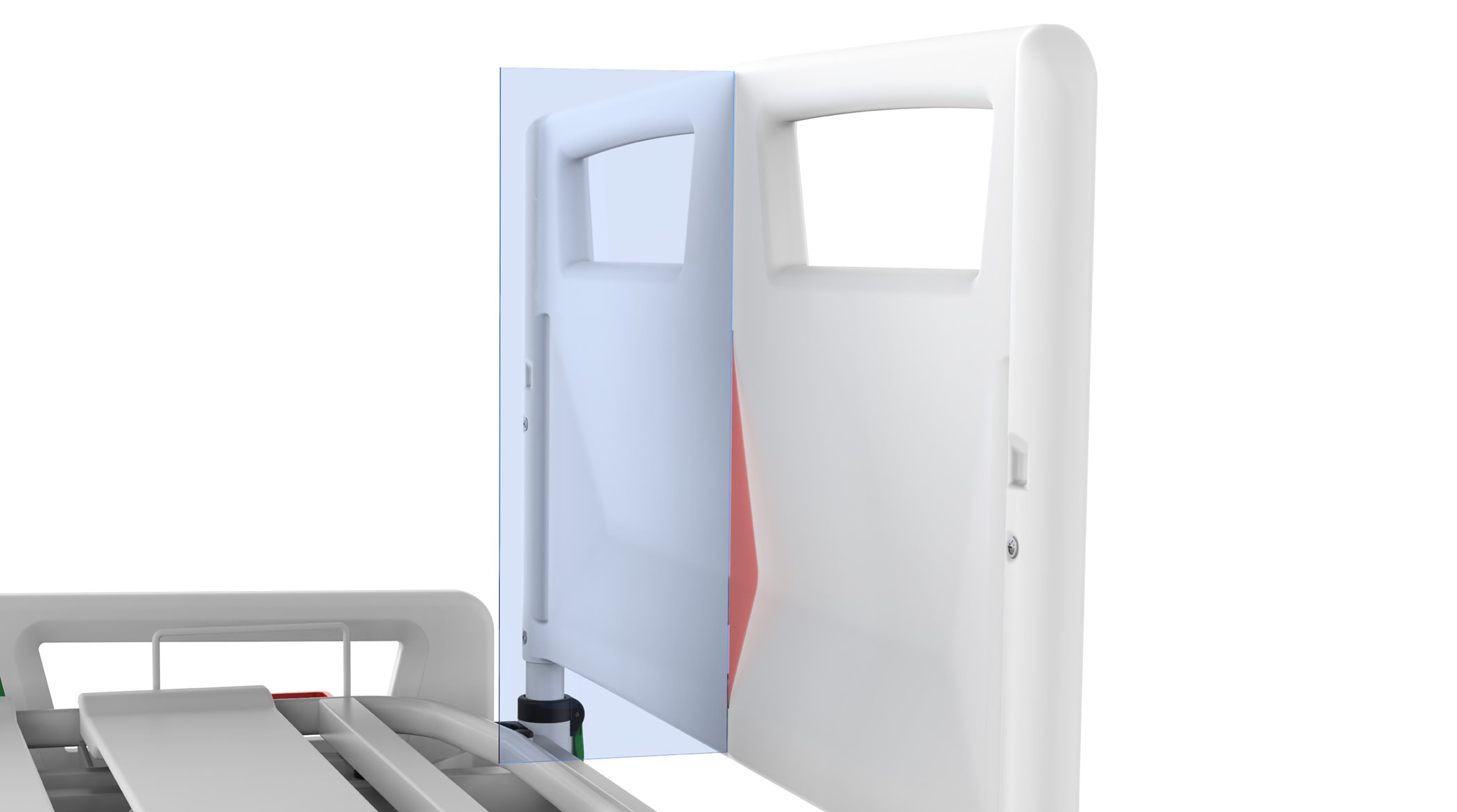 Load capacity
The solid and stable construction with a safe operating load of up to 270 kg provides safe support even when caring for patients with higher weight. Thanks to the materials and technologies used, extremely high durability is ensured even under repeated increased loads.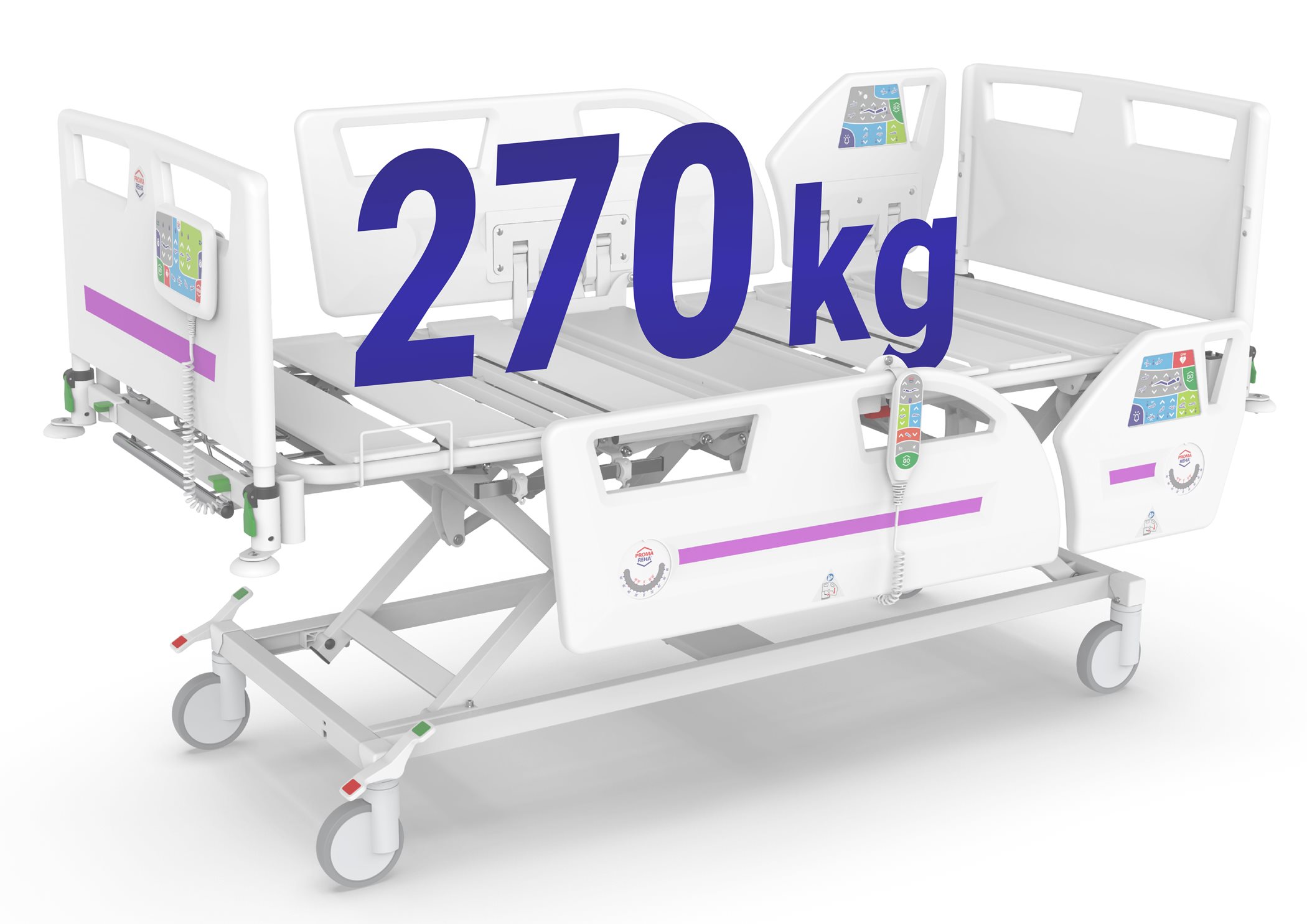 Unique bed extension of up to 30 cm
The smooth extension of the mattress platform by means of a patented mechanism operated from the foot of the bed brings comfort even to taller patients.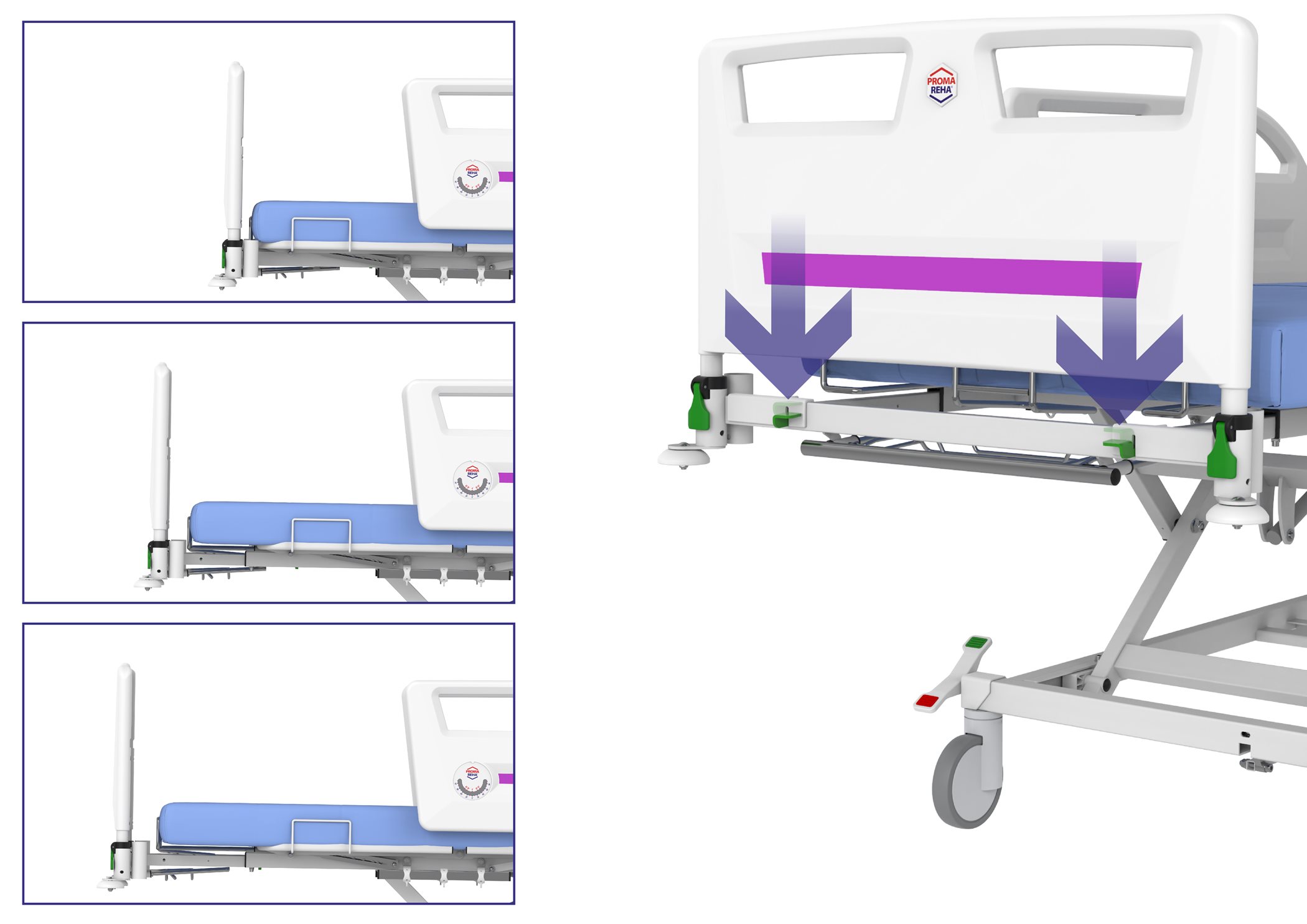 Mattress holders
The mattress holders ensure the optimal position of the mattress when positioning the mattress platform.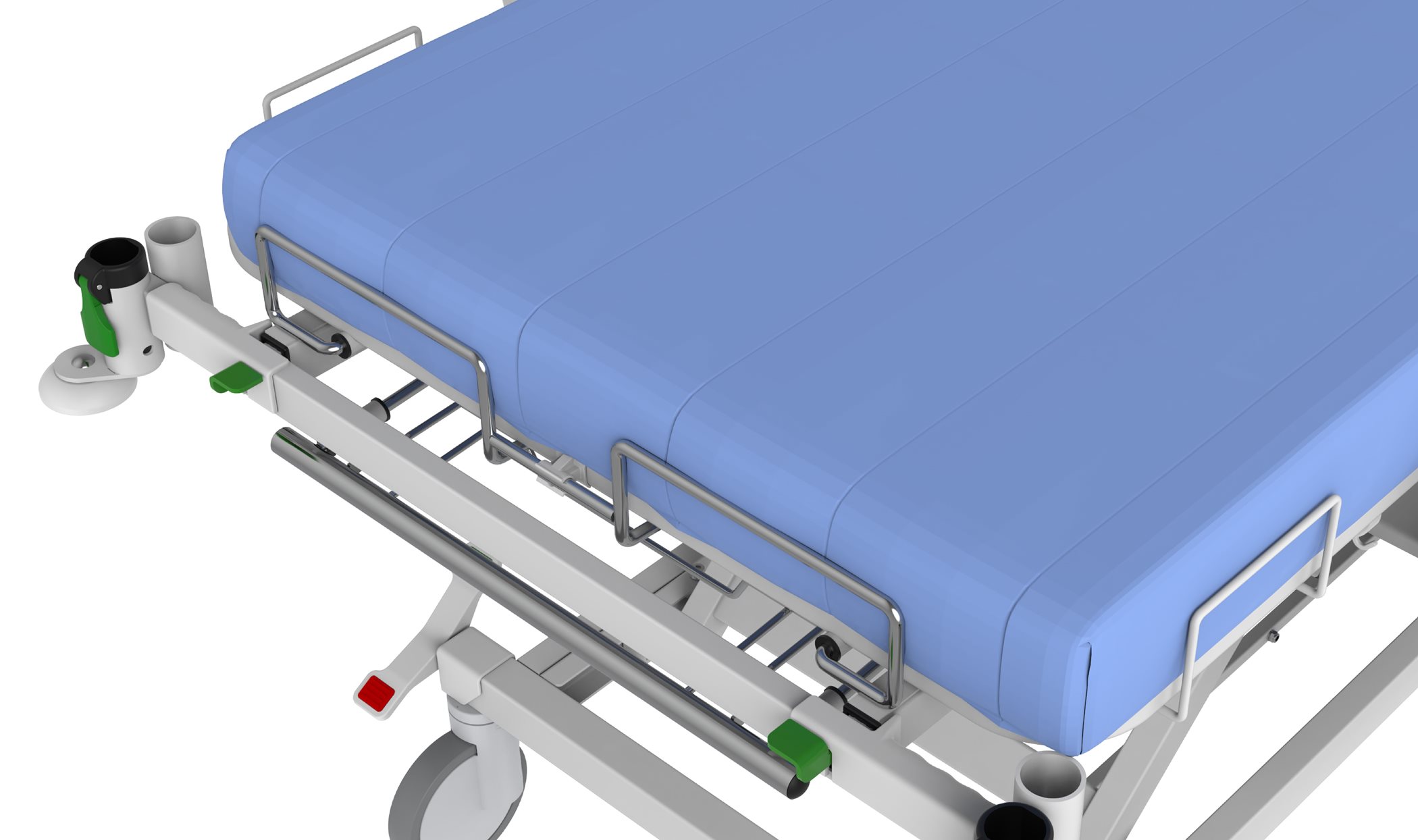 Universal accessories holders
Two are located at the head board and two at the foot board. They allow the use of accessories such as: lifting pole and handle, IV pole, monitor holder, additional side rails, bedside lamp or extension kit.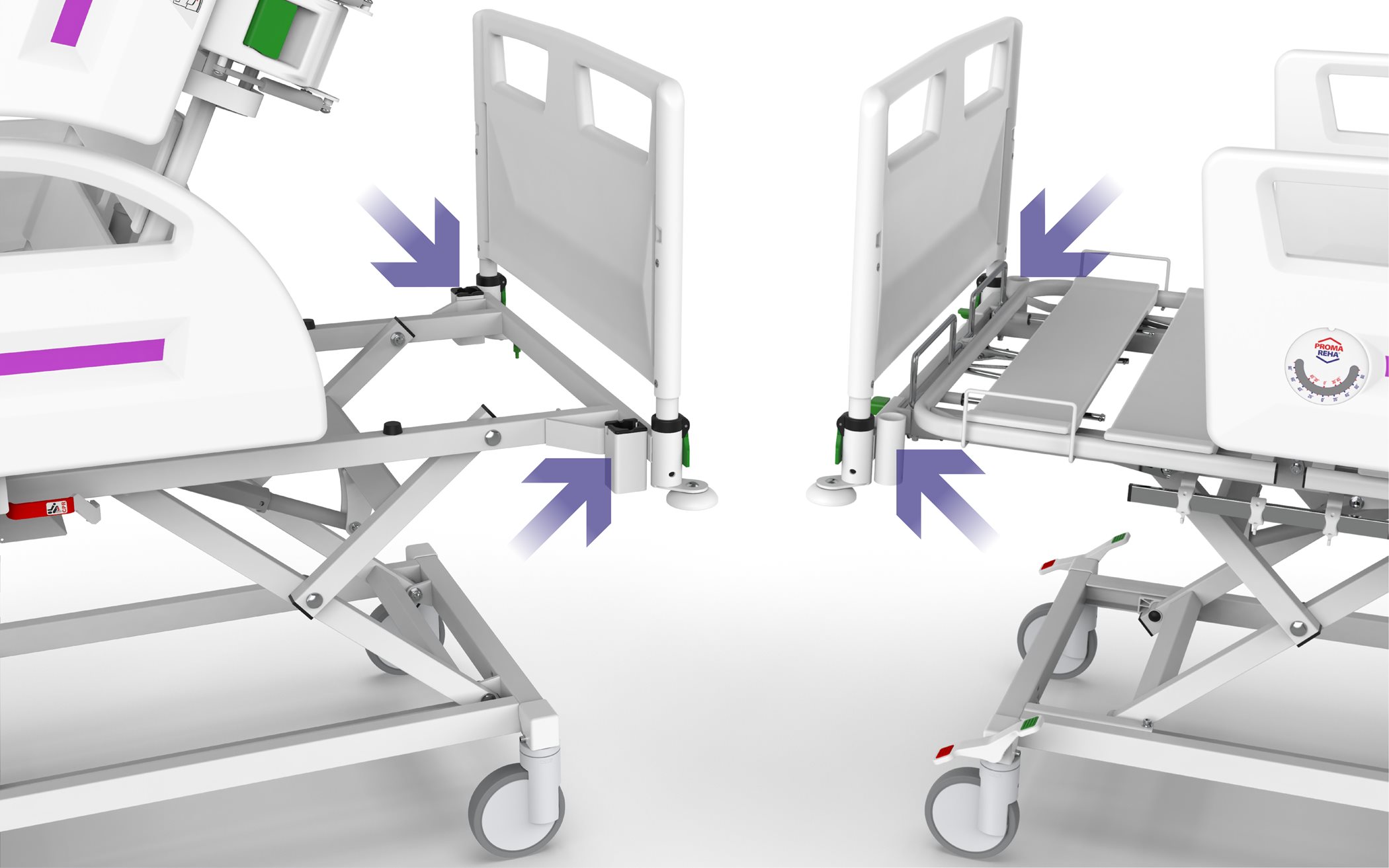 Horizontal accessories holder
The standardised stainless steel euro rail for hanging accessories is equipped with three universal plastic hooks on both sides of the bed.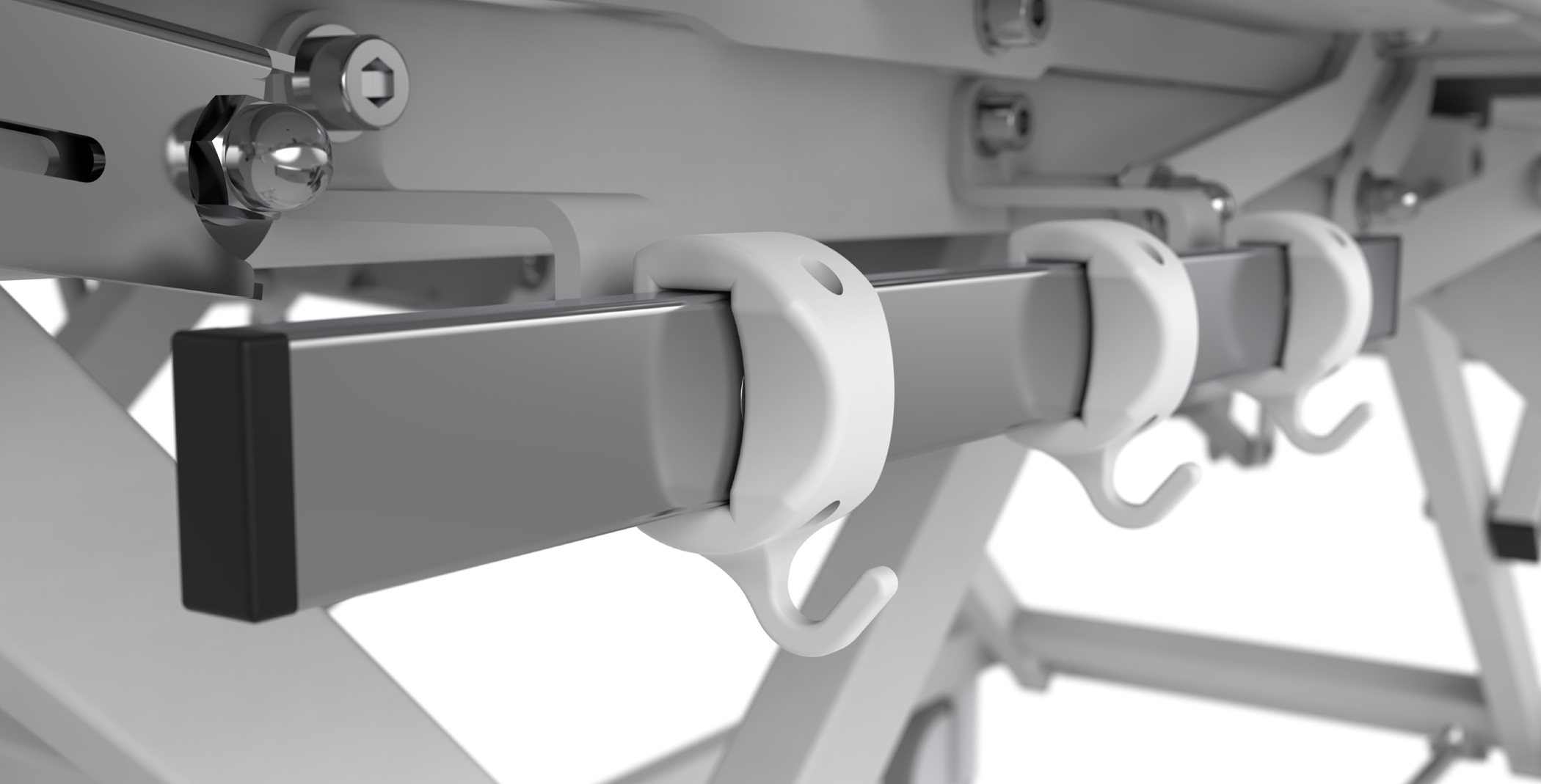 Inclination indicator with Fowler and Semi-Fowler position indication
The integrated inclination indicators facilitate the correct treatment positioning of the patient.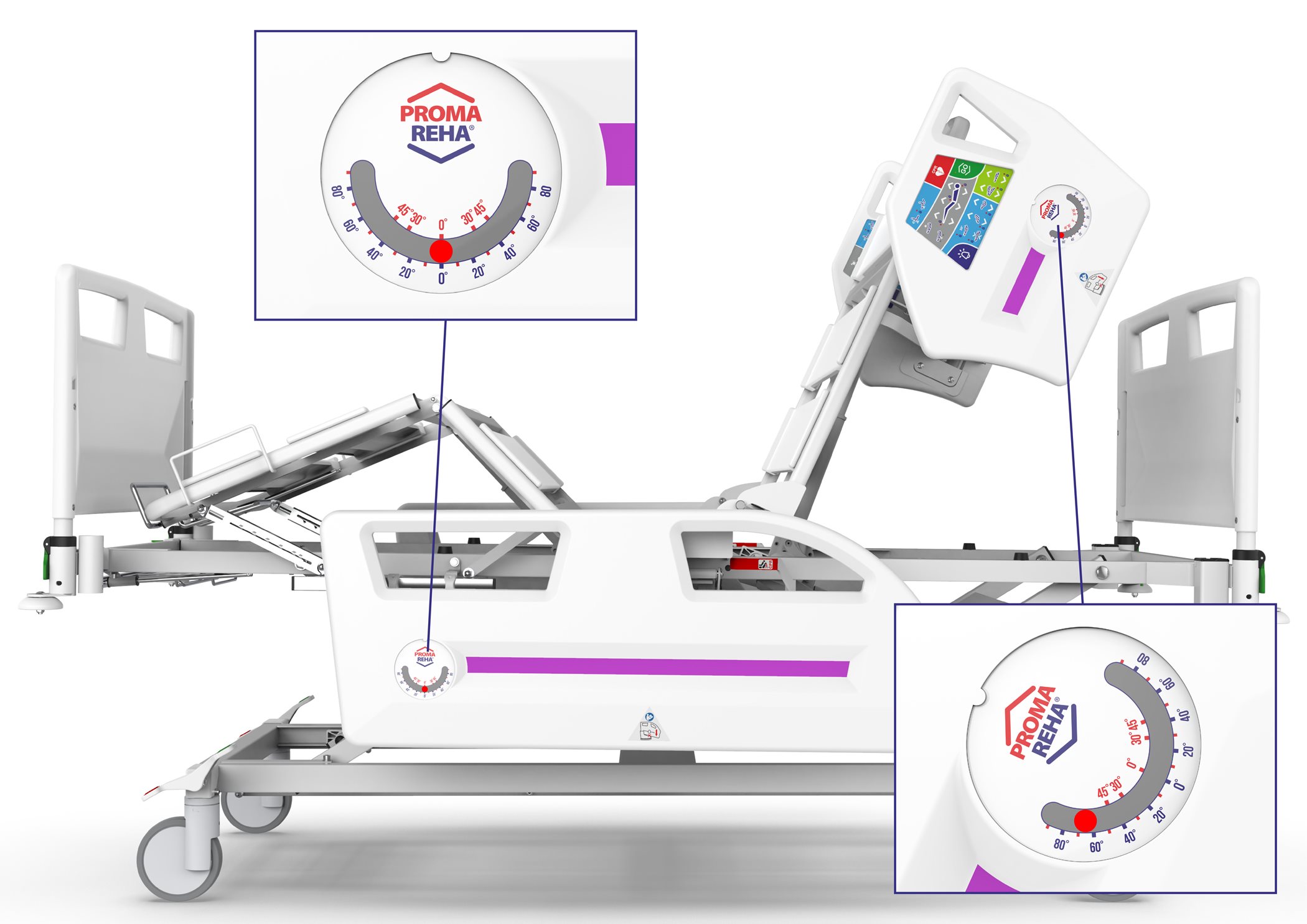 Technical parameters
Mattress platform (length x width)
200 x 90 cm
Outer bed dimensions with bumper wheels
(length x width)
220 x 99,5 cm
Mattress platform height
40 - 85 cm (electrical)
Autoregression back part
12,5 cm
Autoregression thigh part
6,5 cm
Mattress platform extension
30 cm (mechanical)
Calf part extension
Yes (optional)
Weight of the bed
125 kg
Safe operating load of the bed
270 kg
Maximum patient weight
235 kg
X-Ray back part
Yes
Application environment for bed use
2, 3
Mattress platform parts - removable plastic lamellae
Yes (optional)
Mattress platform parts - metal slats
Yes (optional)
Trendelenburg / Antitrendelenburg
16° / 16° (electrical)
Max. angles of adjustable sections - back part
70° (electrical)
Max. angles of adjustable sections - thigh part
40° (electrical)
Max. angles of adjustable sections - calf part
25° (rastomat)

Bed equipment
| | |
| --- | --- |
| Castors | TENTE, 150 mm plastic, 125 mm metal |
| Central brake | Yes |
| 5th wheel | Yes (optional) |
| Horizontal accessory holder | Yes 2x |
| Plastic hook | Yes 6x |
| Aretation of bedheads | Yes |
| Universal accessory holder | Yes 4x |
| Backlight chassis | Yes (optional) |
| Bed linen shelf | Yes (optional) |
| Nurse control | Yes (optional) |
| Pacient control | Yes (optional) |
| Siderail control | Yes (optional) |
| Backup battery | Yes |

Mattress
| | |
| --- | --- |
| Recommended mattress (lenght x weight) | 200 x 90 cm |
| Mattress thickness in normal using | 14 cm |
| Recommended minimal mattress size | 12 cm |
| Recommended maximal mattress size | 22 cm |